James Warlick, the United States Ambassador serving as co-chair to the Organization of Security and Cooperation in Europe (OSCE) Minsk Group, last week called for "bold steps" to change the status quo in Artsakh (Nagorno-Karabakh). His proposed steps, however, fell short of anything bold and his statements have be subjected to wide reproach from Armenia to the United States.
Probably the most surprising of his statements, that "the occupied territories surrounding Nagorno-Karabakh should be returned to Azerbaijani control," was most halting.
US Ambassador to Armenia John Heffern, not surprisingly, echoed Warlick in a tweet: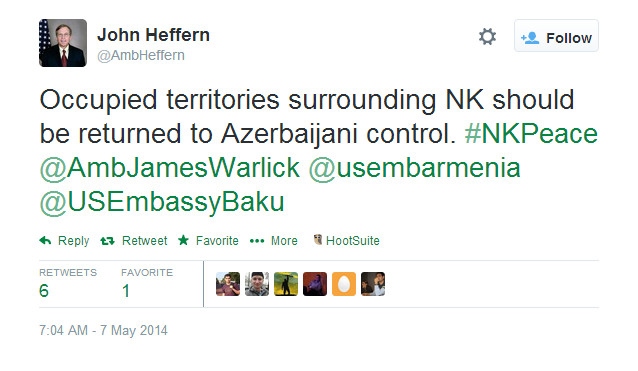 These confounding errors – referring to "occupied territories" – ignored the well-founded reality that there are no territories occupied by Armenians. Neither ambassador specified the regions to which they were referring but for them to suggest that any part of the Artsakh Republic is under Armenian occupation is about as correct as saying that Texas and California are "under occupation" by the United States.
In fact, the only territory known to be under occupation in the region is Shahumian, which is currently controlled by Azerbaijan.
Warlick also made it seem that a lack of change in the status quo has been what's precluded Azerbaijan from being a "player on the world stage," though he made no mention of the country's decades-long authoritarianism or widespread economic inequality. To say nothing about it being a place that publicly and officially celebrates axe murderers.
To further belabor his misreading of Artsakh's situation, Warlick included in his statements that the "thousands of people living in Nagorno-Karabakh would be freed from the prison of isolation and dependence," failing to note that Nagorno-Karabakh is a fully functioning democratic republic where the people live in a free and open society.
Bordering on negligence, Warlick's speech was absent any mention of the incessant stream of bellicose rhetoric that has emanated from the Azerbaijani side, as well as the threat to shoot down civilian aircraft, calling Armenians the main enemies of Azerbaijan, and an official offering a reward for the severed ear of an author perceived as being pro-Armenian.
Warlick mentioned "peace" 31 times in his speech – presumably as a goal – but it is unclear how he came to be convinced that the rest of his words, clearly inflammatory and offensive to the Armenian side, would promote his stated interest.