I've hitchhiked in quite a few countries around the world. I've spent moonlit nights under cacti after long days thumbing through the Baja desert of Mexico. I've had door-to-door service when hitching back to the city from the mountains of Canada. And once, I even got picked up by a policeman at the edge of Tripoli, Lebanon, his car brimming with confiscated alcohol and cigarettes, while he casually offered me "the best Ukrainian girls," as long as I called him 24 hours in advance. Those experiences have all been wonderful.
But doing the unconventional deed in Armenia has always given me the most meaningful memories, trumping my experiences with all the others. I remember one such time, in the late summer of 2012.
Three friends and I had hitched our way to the village of Kosh, a 45-minute drive from where we lived, in Yerevan. We'd heard about a seventh-century Armenian church there, perched on a rocky outcrop, and looking out across the valley above the sleepy village. We'd thumbed our way there, hiked up to the deserted church of St. Stepanos to appreciate the beauty of its ancient stone carvings, continued through to the narrow, thorny and rock-covered gulley below, and finally back down to the village through the ruins of another old building.
The sun was sweltering. We were sweaty, dehydrated, and sitting on the dusty sidewalk at the edge of Kosh. The distinctive put-put-put of an old Soviet motorcycle made its way through the hazy September air, and around the corner came a bluish-grey Russian motorbike with a sidecar.
The bike was decades old; it looked like something out of a World War II film. It featured rusty wire wheels, balding tires, and showed signs of many generations' use. We couldn't help it: We stuck out our thumbs.
One minute later and the four of us had made it aboard the battered old bike. Only in Armenia can four strangers climb atop a motorbike without a moment's hesitation from the driver. We clung on for dear life as the driver sped his way through Kosh and dropped us off outside of a local market a few minutes later.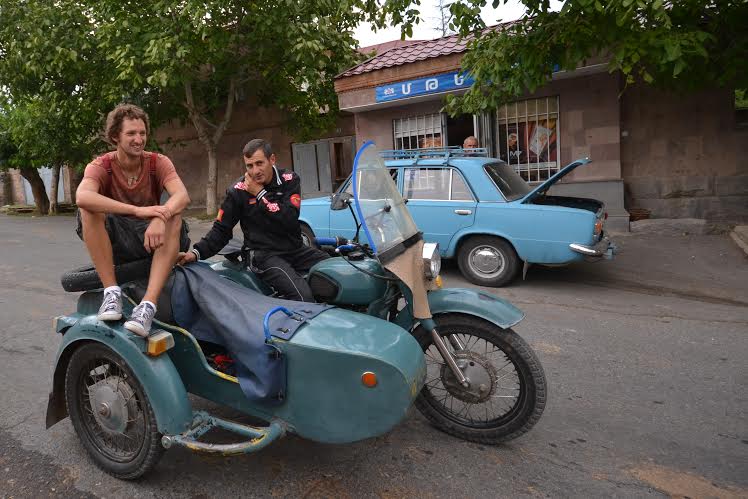 We thanked our driver, reveled in the hilarity of the situation, bought some bottles of water, and sat on the steps of the store to relax. Suddenly, there was a voice behind us.
The lady from the store, where we had just bought our drinks, had reappeared from the shadows of her tiny village shop. In one hand, she held a bucket and in the other, a plastic shopping bag. She sidled over to us and presented an overflowing bucket of beautifully ripe plums and a heaving bag of grapes. All fresh from her garden, she explained. Suddenly, I understood: We looked hot and tired; this was a gift. We smiled and thanked her profusely. Shortly after, she returned, this time holding a tray filled with tiny cups and a jazzve full of steaming Armenian coffee. We sat for a few minutes more with the lady and her husband, drinking coffee, and basking in the afternoon sun. Our day's adventure would end with one more ride, this time, in a knackered, old Lada, making our way down the highway and back to Yerevan.
Call it adventure, call it the element of surprise, or call it the warm feeling of meeting generous people willing to give strangers a free ride. Either way, my wife and I love hitchhiking, and we've made it a habit to do it around Armenia's countryside on our days off. Often, you can find us waiting on Mashtots Avenue for the 259 bus, which takes us the edge of Yerevan. We'll jump off just before the bus leaves the highway and continues on its path to Abovyan, and then hitch our way north toward Lake Sevan. Where we end up is anyone's guess.
Once, we were invited to lunch by another Lada-driving gentleman and his friends. The location? A graveyard, overlooking the shimmering waters of Lake Sevan. We broke bread, we downed some vodka, and we watched our new friends open up another bottle and start the process over again.
Hitchhiking in Armenia had become so easy that Victoria and I decided to make it more challenging: One day, we brought the dog. Icy – an enormous, excitable, and beautiful pure white Husky – was not the most practical creature to take on a hitchhiking adventure. But that only made us want to do it more.
The three of us walked up Baghramyan Avenue, across Kievyan Bridge, over Hrazdan Gorge, and out toward the Ashtarak highway. We stopped at our usual hitchhiking spot and stuck out our thumbs – well, except for Icy. Within a few minutes, a car pulled over. We told the driver that we were looking for a ride to Ashtarak to visit our friend, Artyom, and we wanted the dog to come too. Probe-lem chika. "There is no problem."
And so off we went for tea at Artyom's house, returning to Yerevan later that evening in the back of a UAZ-452 "bread loaf" van, Husky and all. Icy didn't say anything to me about the trip, but her constantly wagging tail and excitable behavior made me feel like she enjoyed her first hitching experience.
These are just a couple of my hitchhiking stories in Armenia. I could tell you about Jora, with his lunch invite that eventually extended to dinner (barbeque and booze) and us staying the night.  I could also tell you about the time we ended up delivering a fresh batch of bread and cheese to soldiers on the frontline with Azerbaijan up near Voskevan. But I'll save those for another time. For now, I'll leave you with the image of five sweaty people, piled high onto a motorcycle and sidecar, careening through the streets of a tiny Armenian village like it's the most normal thing in the world.