Yerevan's street art scene isn't famous yet, but one day, it will be. Often hiding in underground passages and amid lush yards, urban art in Armenia's capital is only discovered when people want to discover it. Its culture is still developing every day. And the burgeoning movement is on the minds of Armenia's artists.
"Yerevan's street art has a very raw, unrefined feel and that's what I love about it," Adrineh Gregorian, a Yerevan-based Armenian-American artist, says. "You are watching something develop into its own voice."
Gregorian also sees the art form's evolution: "In the 1990s, the streets in Yerevan were filled with 'Michael Jordan' and 'Eminem' tagged everywhere," she says. "Now, we see beautifully painted dalans [archways]  and a lot more public awareness street art."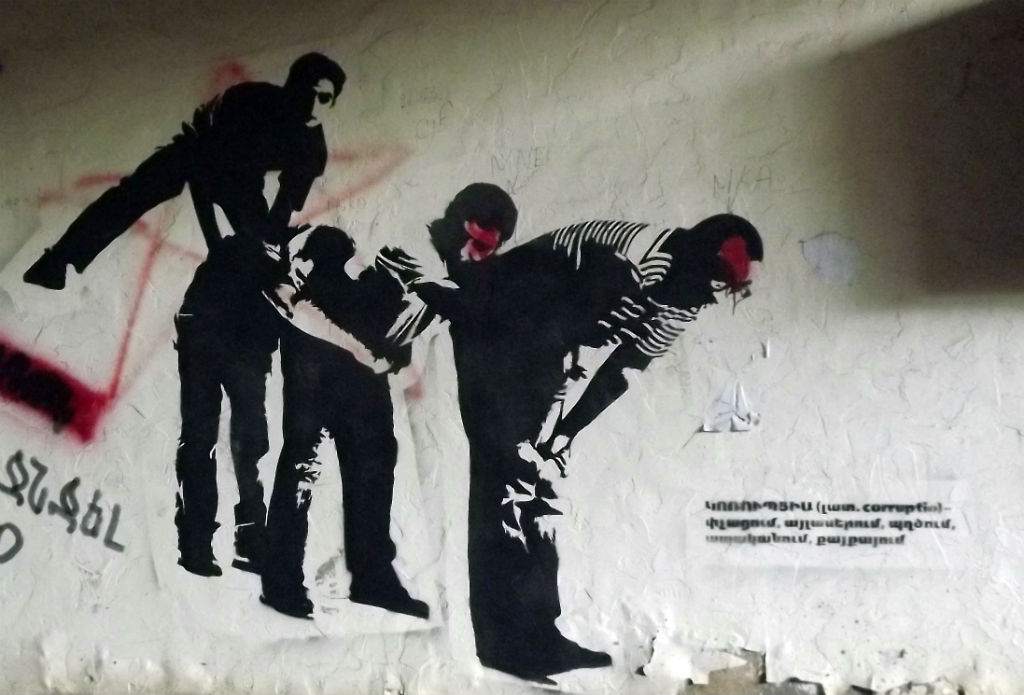 Yerevan's street art is evolving to include more pieces that promote public awareness. But is that what the point of street art is supposed to be? Does art in the urban landscape amount to activism or artistic expression? And what word defines the movement better: "street" or "art"?
Sarko Meene, an Armenian artist who primarily works from her home in Dilijan, is quick to note the subjectivity of the word "art" itself. "Overall the word 'art' has metamorphosed into a modern phenomenon that I cannot really grasp anymore or define," she says. "I personally understand the word 'art' as something that gives a positive vibration to the audience… something very beautiful… very graceful… very sophisticated."
Perhaps Meene's own definition of art is why she has a hard time using the same word — "art" — to define both urban art and more traditional mediums, like pieces by renowned artists such as Joan Mitchell and Jeff Koons. "It's even harder," she says "to engage street art to the word 'art.'"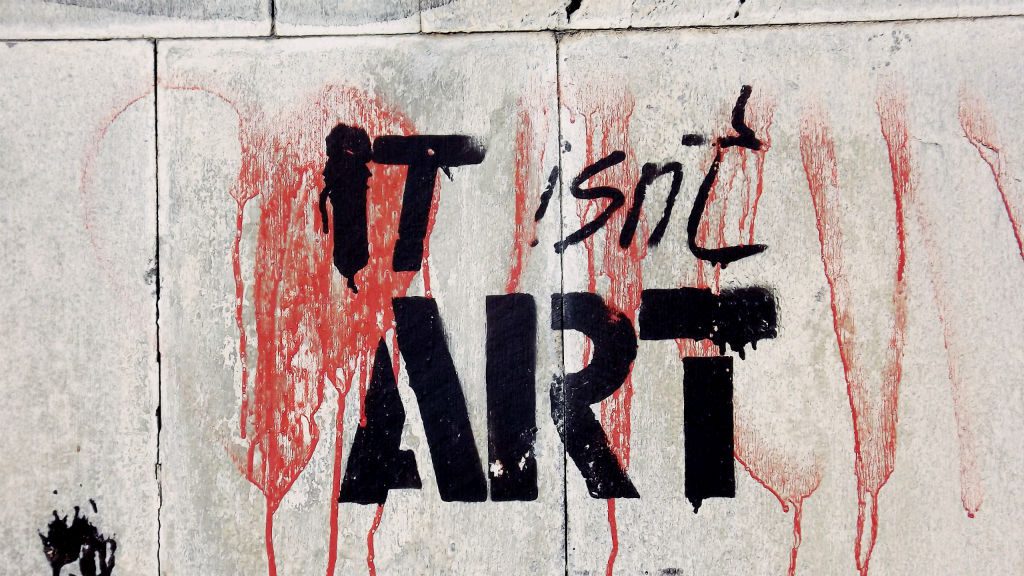 Artak Gevorgyan, one of the most active backers of street art in Armenia has a more clear definition of the phrase. Gevorgyan, who's a co-founder and member of a well-known street art group himself, describes street art as "a form of expression in between art and activism that might get closer to one or the other depending on the artist's intentions and a particular project."
Gevorgyan's own group, Counter Strike, leans toward activism, with their pieces of painted paper posters, installed across the city, often acting as ad hoc reactions to political and social decisions in Armenia that the group disagrees with.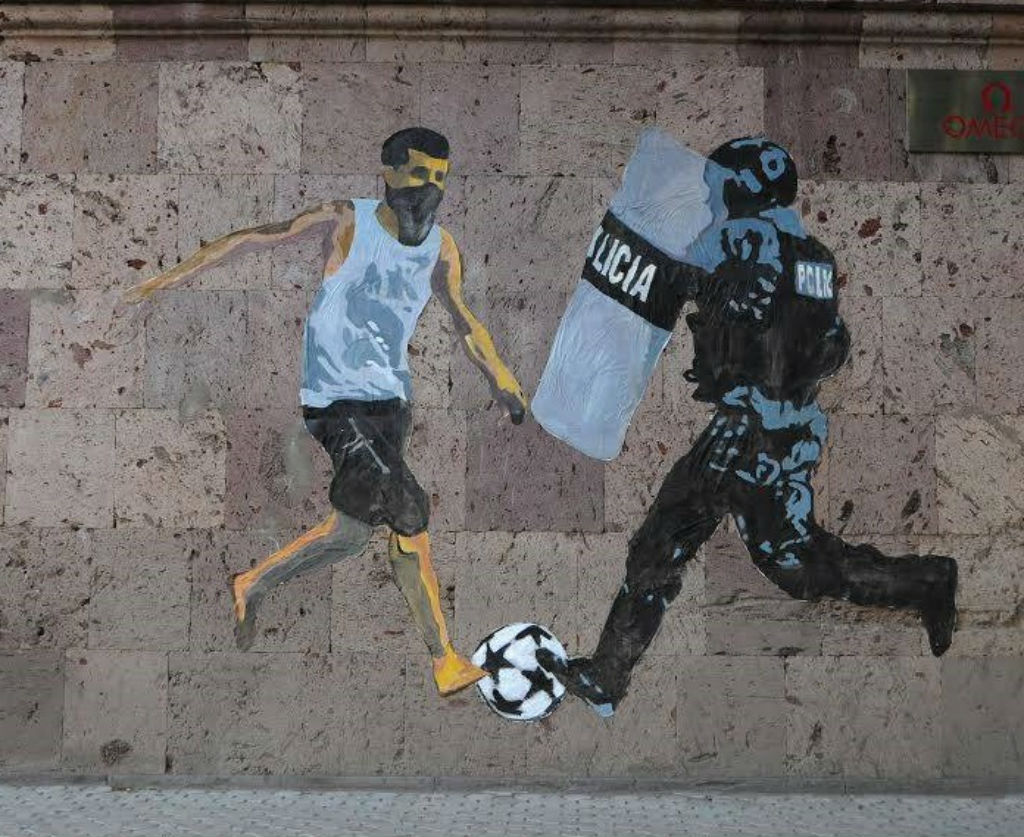 In fact, Gevorgyan and his group have run into trouble with police on more than one occasion. Just a few months ago, in October, Hetq reported that special forces in Yerevan had "snatched" Gevorgyan, pushing him into a car and taking him to the central Yerevan police station for questioning about stenciled graffiti on a street.
Gevorgyan admits that his street art is "very political" and often expresses "civic anger, disagreement, and disobedience," but he's adamant that his art never destroys anything. He makes sure to never vandalize any property and the pieces he posts up in public are even painted on recycled paper. But there's always been a fine line between street art and vandalism, and the relatively new movement in Yerevan makes it even more difficult to decipher between the two.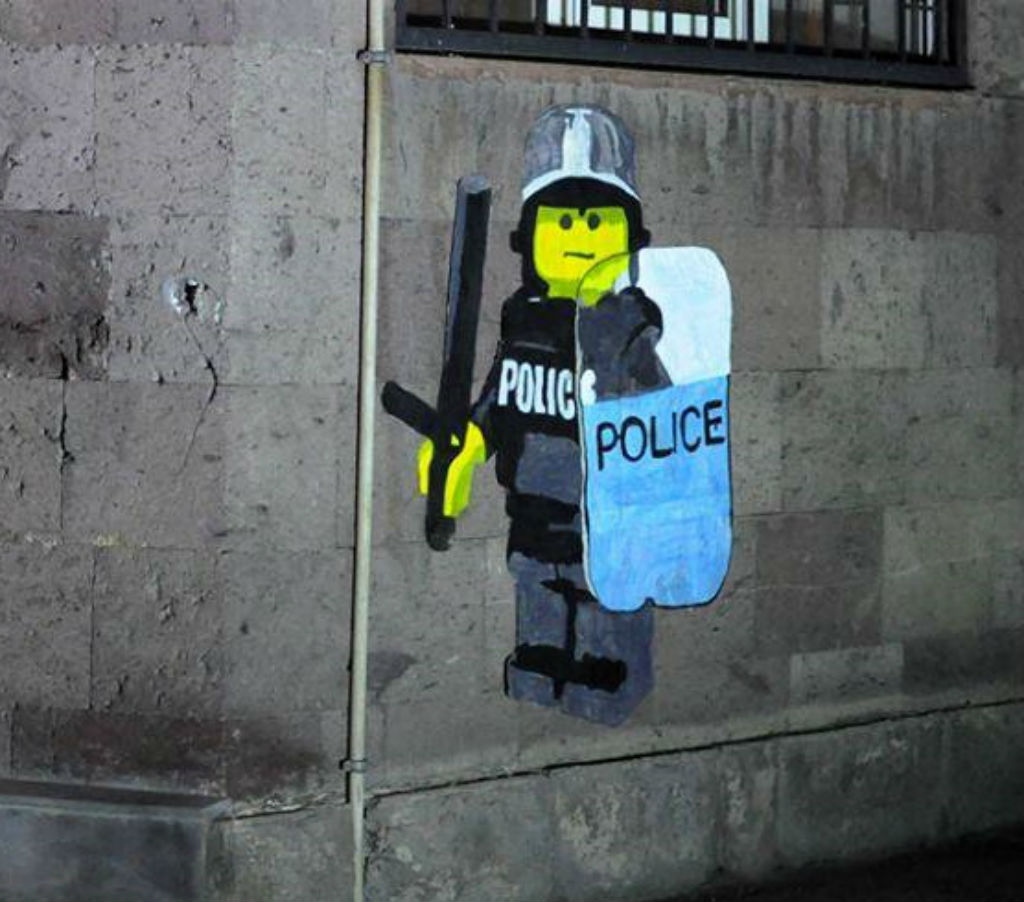 Artists like Gregorian think that making clear distinctions between vandalism, graffiti, street art, and activism will help. For instance, "defacing historic buildings is unacceptable in any city," she says.
Meene also believes the issue of vandalism creates a problem for the budding street art scene in Yerevan. In fact, she's noticed that more buildings are being destroyed in the name of art.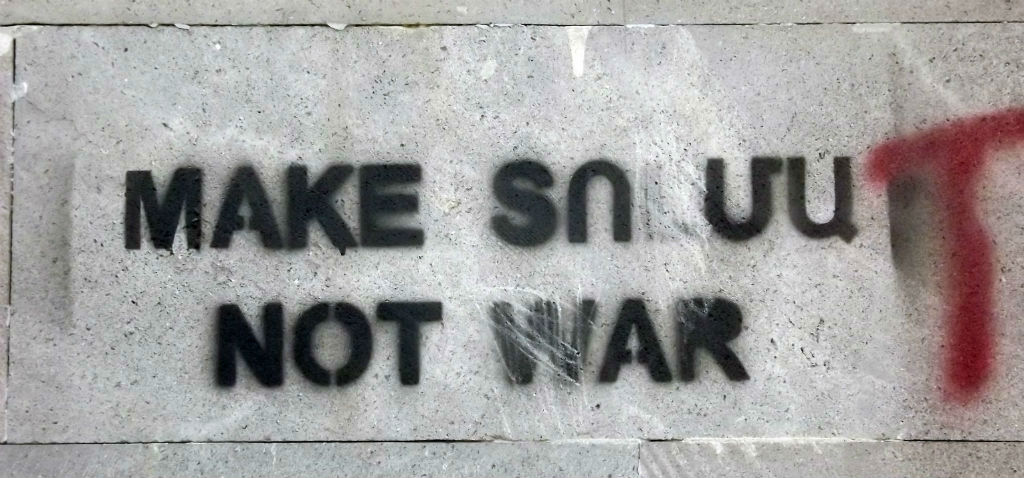 "Until recently, I have noticed that the beautiful buildings of Yerevan have been protected by the street artists themselves, as if they had a special respect for these stones," she says, adding that these artists would opt more for plain walls instead of architecturally heavy buildings.
But things have changed. "I was gone for a while and when I came back this month I noticed some new street art in Yerevan that… was done rebelliously on clean and beautiful walls of tufa."
Meene chalks this up to "chaos" in Yerevan's street art scene. Gregorian thinks it has more to do with the medium being an all-encompassing outlet for so many different walks of life.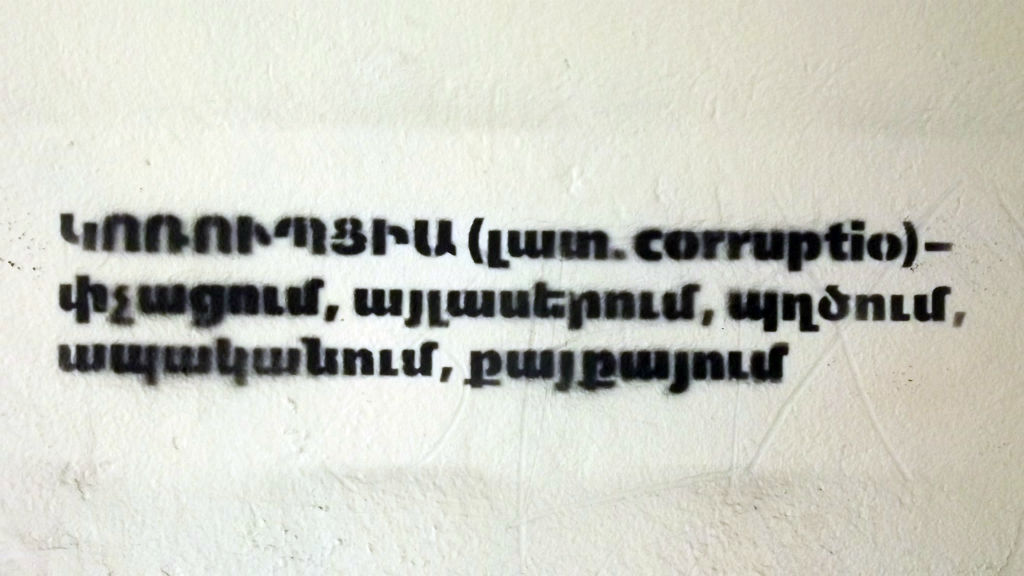 "Street art is a collection of voices…" Gregorian says. "Whether it be rebellious youth tagging the city, activists creating public awareness, or others who use the city as an open air canvas."
In other words, these urban artists in Yerevan are simply figuring out who they are. They're negotiating their place in the public space. And they're learning as they go.
Street art in Yerevan is uncharted territory. Sometimes, there's even events in the city aimed at raising awareness about it among the general public. One of the most recent was "Street Art feat. Music," an event at Aeon in February, where the audience gathered to watch Gevorgyan create a new art piece via live stream. There was live music by psychedelic rock band LSD, a question-and-answer session with Gevorgyan, and genuine curiosity about this emerging movement.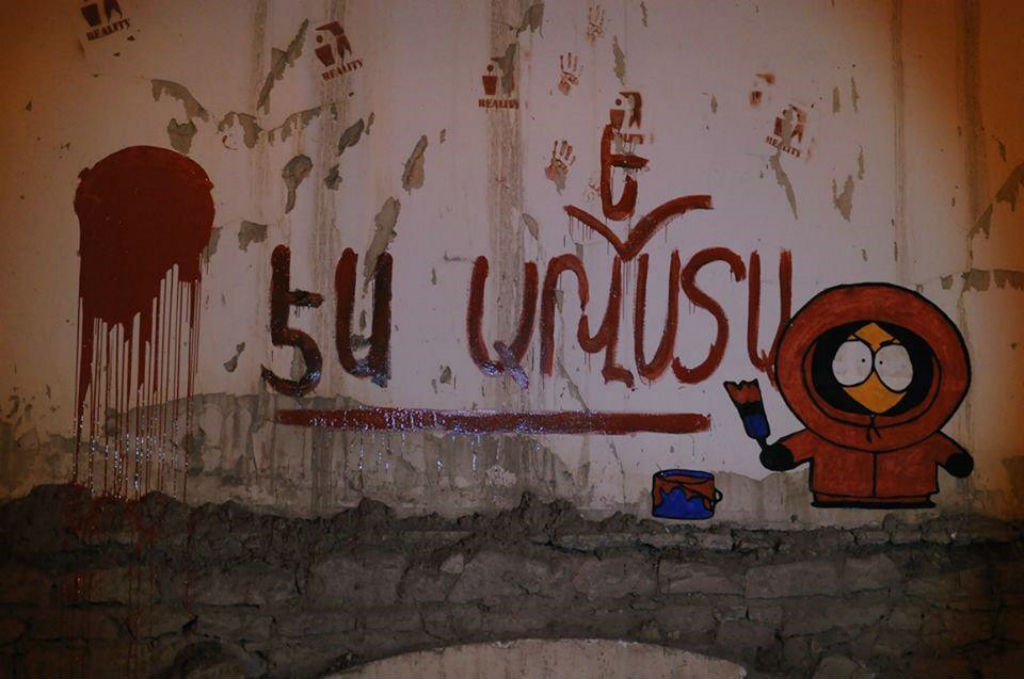 The street art scene in Yerevan can be defined in many ways. It's "raw and unrefined" just as Gregorian says, it's "very political" like Gevorgyan puts it, and it's pure "chaos" like Meene surmounts. It's all of these things, together. And it also has a common denominator: freedom.
Above all else, street art in Yerevan gives people the chance to say what's on their mind. "Street art is one of the only forms of free speech. It gives the youth a platform to speak up," Gregorian says, adding that she's inspired when she sees the new generation speak out and notices more talent in the public forum every day.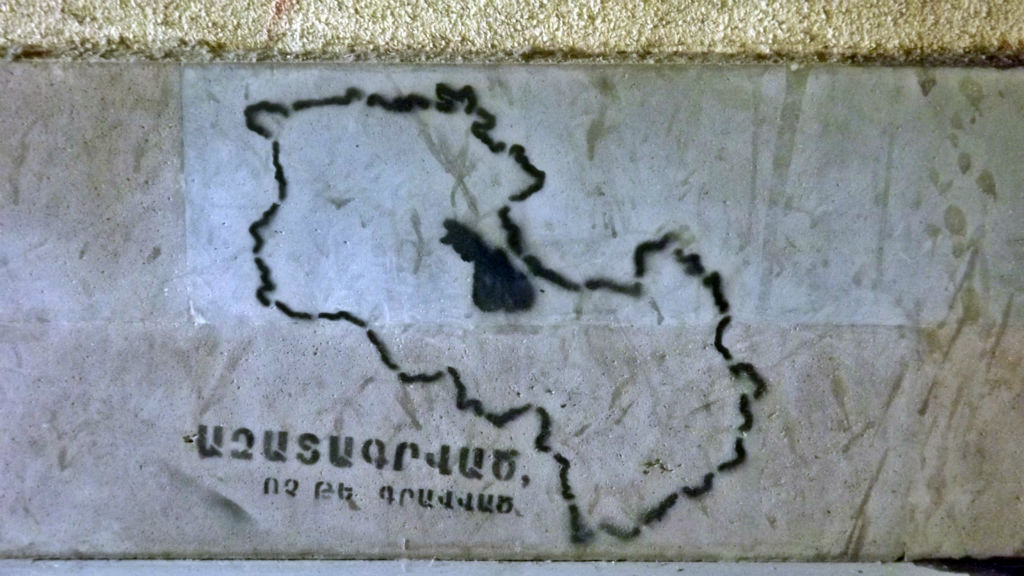 Meene also finds the aspect of freedom as one of the most important features of street art, claiming that even a more traditional artist who typically works inside art galleries might get seduced by the temptation of big, plain walls waiting to be filled with art.
"Some of them do it to gain fame… some just repeat what they see others doing… some try to spread political ideas… some just want to get a lover's attention," Meene goes on. "Some I hope do it just because they want to put something beautiful out there for everyone to see and enjoy."
As for Meene? She does it for the smiles. Yes, even Meene admits to creating street art of her own in Armenia, but says she doesn't sign it with her name, as she wants "neither credit for it, nor punishment."
As I play with the different meanings of street art in my head, thinking of the words Armenian artists like Artak Gevorgyan, Adrineh Gregorian, and Sarko Meene have used to define the yet undefined medium in Armenia's capital, I notice that, like most other street art, the scene in Armenia seems to be for the people and with the people.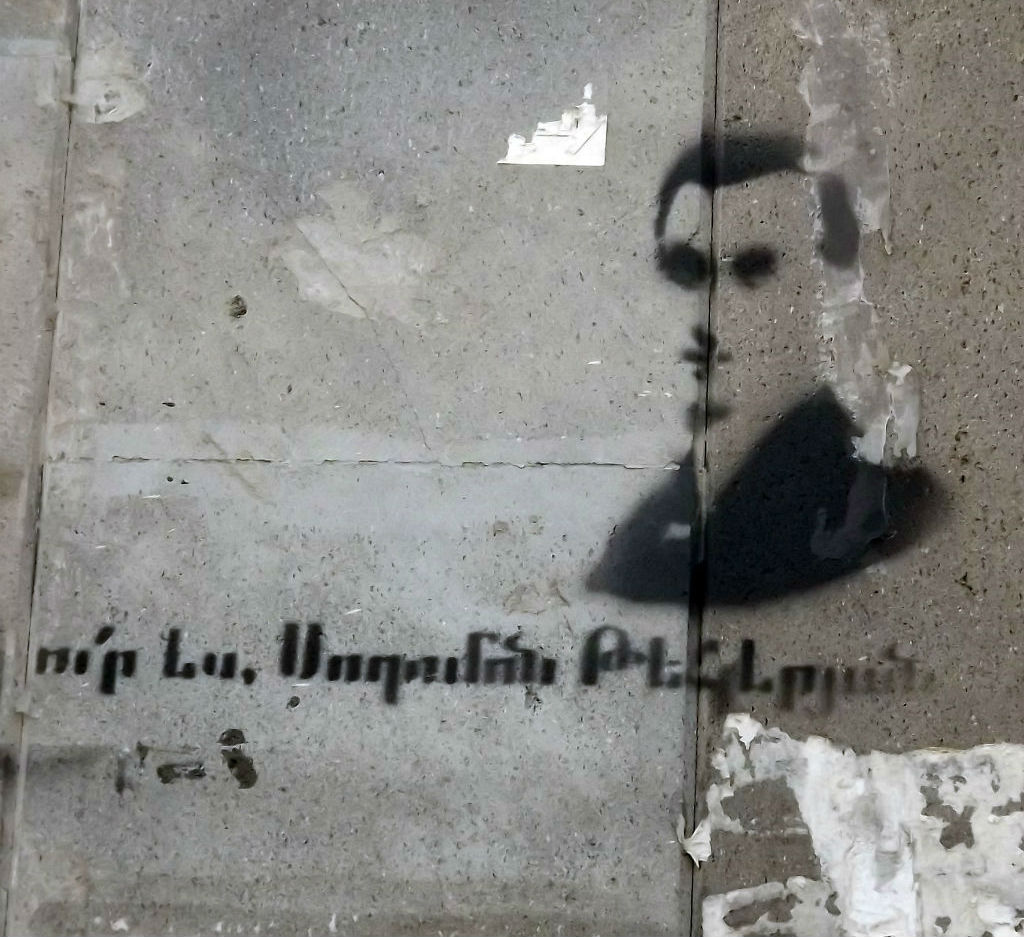 So many pieces in Yerevan's urban atmosphere are deeply rooted in Armenian history and the local social context. So many more are put up immediately, reacting in real time to different events across the country. And all of them are the embodiment of a free and alternative channel of communication and expression.
I'm not an artist myself, but I'm a keen observer. And as I notice these new and artistic elements pop up around my city, I can't help but get excited for what's to come. You should watch out for it, too.