Amnesty International, one of the many international organizations that like to pontificate on human rights and whatever the latest international fad issue is, recognized that Azerbaijan used cluster munitions on Stepanakert in early October in a report it released.
Or did it?
Here was its headline after realizing Azerbaijanis used cluster bombs on Artsakh's civilians:
ARMENIA/AZERBAIJAN: CIVILIANS MUST BE PROTECTED FROM USE OF BANNED CLUSTER BOMBS (October 5, 2020)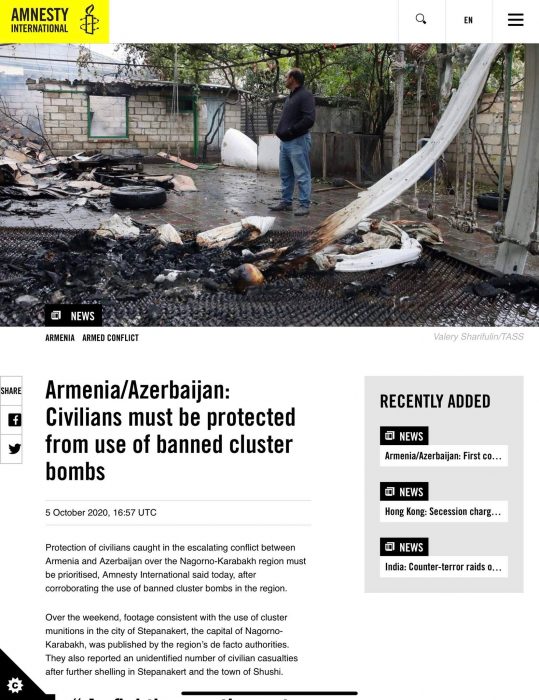 Would you be able to tell who used cluster munitions on whom? Click on the photo and read the first two paragraphs. Now can you tell who used cluster munitions?
Let's move to the second example. This is the headline Amnesty International posted after the Armenian side allegedly used cluster on Azerbaijan:
ARMENIA/AZERBAIJAN: FIRST CONFIRMED USE OF CLUSTER MUNITION BY ARMENIA 'CRUEL AND RECKLESS' (October 29, 2020)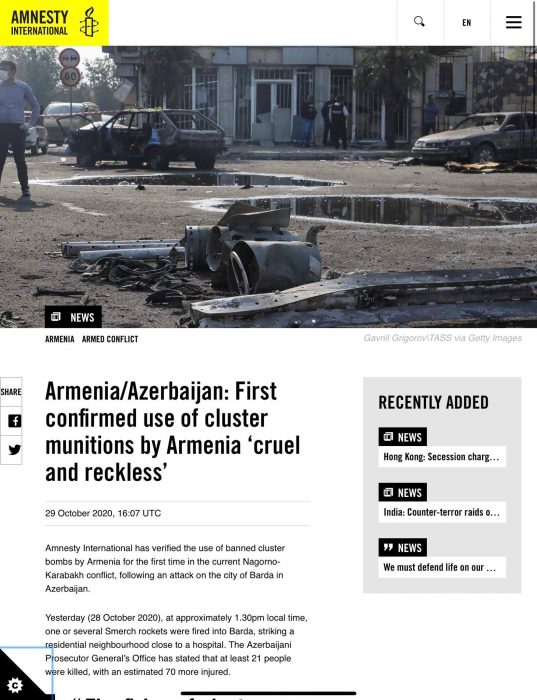 Can you tell who is at fault? It shouldn't be terribly difficult, it's right in the title. The first two paragraphs also don't leave much to the imagination.
You'll notice, if you pay attention, that this is a common theme with international organizations that don't have the courage to speak out plainly about crimes when they first see them. They'll release ambiguous statements that make it hard to discern who was at fault with the hope and, sometimes, the expectation, that the other side can be implicated in something comparably egregious, thus allowing them to release more forceful statements.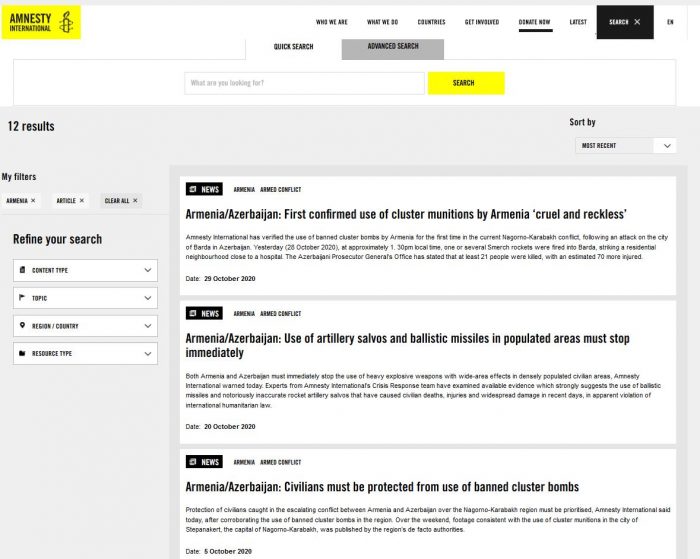 The civilian populations of Stepanakert and the rest of Artsakh were being indiscriminately shelled for over one month by every type of Azerbaijani bomb – artillery shells, rockets, drone fire, cluster munitions – and the one story Amnesty managed that implicated a single country was written on October 29 and when it did, the culprit was Armenia, not Azerbaijan.
It's not us they care about, it's themselves, their agendas, their policies, their fundraisers. They cannot take a stand firmly on one side, the right side, because their guiding principle is not to do what is right but to do what is expedient, to do what is best for Amnesty, not what is best for you, me, or the Armenians who have been living under constant bombardment for over a month.
Don't forget this when the war inevitably ends and Amnesty and other international organizations come knocking again at our door.