The Armenian Nation has been in a constant search for heroes and villains, looking to find the proud and courageous leaders who stand in sharp contrast to the corrupt and weak ones. As politicians come and go, it is a common practice to portray historical events in a light favorable to the current authorities: the current situation in Armenia, with the recent arrest of Robert Kocharyan by Nikol Pashinyan's government, is no different, casting Kocharyan as the nefarious villain and Pashinyan as a crusading hero. However, a brief look into the recent past may paint a different picture.
***
In the early 1990s, during one of the more difficult years of the Artsakh War, the Secretary-General of the Soviet Union, Mikhail Gorbachev, along with the Soviet Azerbaijani authorities, was trying to portray Artsakh Armenians as "separatists." Robert Kocharyan, then the de facto leader of Artsakh, met with Russian journalist Andrey Karaulov to defend the interests of the Armenian Nation in front of the entire Soviet audience. During the interview, Karaulov coldly asked Kocharyan what the international community can do to successfully force the discontinuation of fighting in a conflict such as this, one where Kocharyan had to take his own brother to a hospital hours before the interview because he was severely wounded in battle. Kocharyan replied stoically: "a war is a war for everyone, for me, for my brother, and for all of us who have to bear the hardships of it," adding that he never doubts that peace will eventually prevail.

Years later, in 1997, Vazgen Sargsyan, the Defense Minister of Armenia, traveled to Stepanakert to ask Kocharyan to move to Yerevan and help with the unstable and dangerous situation there: Armenia is on the verge of economic collapse. Kocharyan initially refused, saying that there is a lot yet to rebuild in post-war Artsakh. Sargsyan insisted, explaining that the dangerous policies of President Levon Ter-Petrosyan – who did not believe that Armenia is capable of keeping the Artsakh territories – are on the verge of ruining Armenia. Hearing this, Kocharyan eventually agreed, putting the interests of Armenia above everything else.
Upon Ter-Petrosyan's forced resignation, caused by national outrage at his treasonous position on Artsakh, Kocharyan was elected as his replacement. He was entrusted with the position because as a nationalist and a military leader during the Artsakh War, it would have been incomprehensible to imagine he would continue Ter-Petrosyan's policies.
***
As Kocharyan settled into his role in Yerevan, a little-known journalist named Nikol Pashinyan was being kicked out of Yerevan State University due to poor attendance while being sued for publishing false information about Members of Parliament and their families (two decades later, Pashinyan, days away from seizing power, admitted that he does not have a university diploma but claimed it was because he was critical of the university leadership rather than due to poor attendance).
Pashinyan was fined $25,000 and his newspaper, Oragir, was on the verge of closing down due to poor management as well as a lack of any interest from the public in the so-called "compromising" material. Prior to its closing, the newspaper was affiliated with the Nor Ooghi party of Ashot Bleyan, the former Education Minister of the Ter-Petrosyan administration.
In a 1999 article, Asbarez described the fiercely anti-nationalistic Bleyan thus: "At the height of the [Artsakh] war with Azerbaijan he visited Baku and articulated concessions which went against the course of the political policies of the [Artsakh] government. As education minister, Bleyan advocated for the abolition of teaching about the Genocide from Armenia's public school curriculum, saying that Armenia's new generations must be exposed to 'more pleasant' topics." A decade later, Pashinyan would send his children to the Mkhitar Sebastatsi Education Complex founded and operated by Ashot Bleyan.
***
Armenia eventually recovered from the economic and political crises of the 1990s under Kocharyan's leadership. Indeed, during Kocharyan's tenure, the country looked starkly different from the lawless and poverty-stricken Ter-Petrosyan years. By many measures, Armenia was on its way to becoming a safe and prosperous country.
In 2005, Kocharyan was speaking at the European Council. Answering a provocative question from an Azerbaijani journalist regarding his involvement during the Artsakh War, Kocharyan replied: "my roots are from Artsakh and from 1988, my children had no childhood. From 1991 to 1994 my entire family lived in basements, under the bombings of Azerbaijani rockets and jets. I am proud of my involvement in the military activities and I am proud of the result that we have achieved". His unequivocal response resulted in applause from the Council.
As Kocharyan was defending the interests of Armenia in international institutions, Pashinyan abandoned his hopes of owning a newspaper and began writing for another one called Haykakan Zhamanak, affiliated with former parliamentarian Petros Makeyan, an ally of Levon Ter-Petrosyan.
In a report from the period, the United States State Department called both Oragir and Haykakan Zhamanak "sensationalist political tabloids." John Evans, the U.S. ambassador to Armenia at the time, wrote in a leaked report that Haykakan Zhamanak has a "reputation for publishing unfounded stories that tend not to be borne out." The U.S. government-funded Radio Free Europe/Radio Liberty described Haykakan Zhamanak as "sympathetic to Armenia's former leadership [Ter-Petrosyan's government]."
While writing about the Artsakh negotiation process in Haykakan Zhamanak, Pashinyan said, "It amazes me that in our country there are still people who have illusions about the occupied territories… I don't agree that with good diplomacy we can prevent the return of those territories to Azerbaijan. Instead of worrying about our own lands, we are worried about lands which are not ours."
Fifteen years later, parliamentarian Arman Saghatelyan reminded Pashinyan of these treacherous words at the parliamentary hearing to elect him prime minister in May of 2018; Pashinyan falsely claimed that this was a lie and an act of disinformation. Saghatelyan subsequently presented the hard copy of the newspaper, to which Pashinyan again avoided taking responsibility for his words, claiming that they were being "misrepresented." Saghatelyan, who shares Pashinyan's birth year, may have been especially inclined to make this point publicly as he was a decorated volunteer soldier in Artsakh during the fighting whereas Pashinyan had completely avoided the war and any military service thereafter.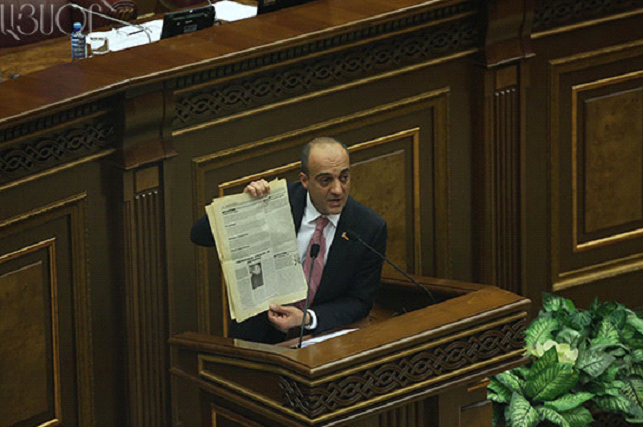 ***
When Kocharyan's second term came to an end, he did not seek to stay in power, becoming a rare exception in early post-Soviet space as a leader of a country who voluntarily forewent an attempt to stay in power for a third term. Around this time, Pashinyan, still an unsuccessful and largely unknown journalist, decided to try his luck in politics, joining the campaign of Levon Ter-Petrosyan in his bid to once again take power in Armenia in spite of the disastrous legacy.
Receiving a mere 21.5% of popular vote, Ter-Petrosyan refused to recognize the results of the election and his supporters launched non-stop protests at Freedom Square. As a means to mobilize his supporters, Ter-Petrosyan declared that key military personnel, including two Deputy Ministers of Defense, Manvel Grigoryan and Gagik Melkonyan, were planning on joining them.Together with Pashinyan, they happily chanted: "Manvel! Manvel!", selfishly dragging the military into their political theater.
On March 1, parliamentarian Vardan Khachatryan reached an agreement with the police leadership to continue the protests the next day, on March 2. However, in a recorded phone call, Pashinyan was sent by Alexander Arzumanyan to instruct the crowd to ignore that command and to continue the protests. Doing as he was told, the young Pashinyan called for the people to create barricades and to arm themselves with whatever they can find, including rocks and sticks. Despite provoking the masses, Pashinyan himself does not face the police, who are forced to defend themselves against the enraged protesters. Instead, as the fatally violent clashes between protestors and police take place on the evening of March 1, Pashinyan ran away under the cover of night and went into hiding for more than a year before turning himself into the police.
While Pashinyan has since laid blame on the deaths of March 1 on Robert Kocharyan and his Government, including Serzh Sargsyan, Ter-Petrosyan's opponent in the election, he has never made mention of his own culpability in those deaths. Joseph Pennington, Deputy Chief of Mission at the U.S. Embassy in Yerevan, described Pashinyan in official cables as Ter-Petrosyan's "most radical lieutenant" who "used extreme rhetoric to exhort protesters to fight" on March 1. Pennington also claimed that "there is credible evidence that on March 1 Pashinyan did in fact incite demonstrators to engage in violent confrontations with police."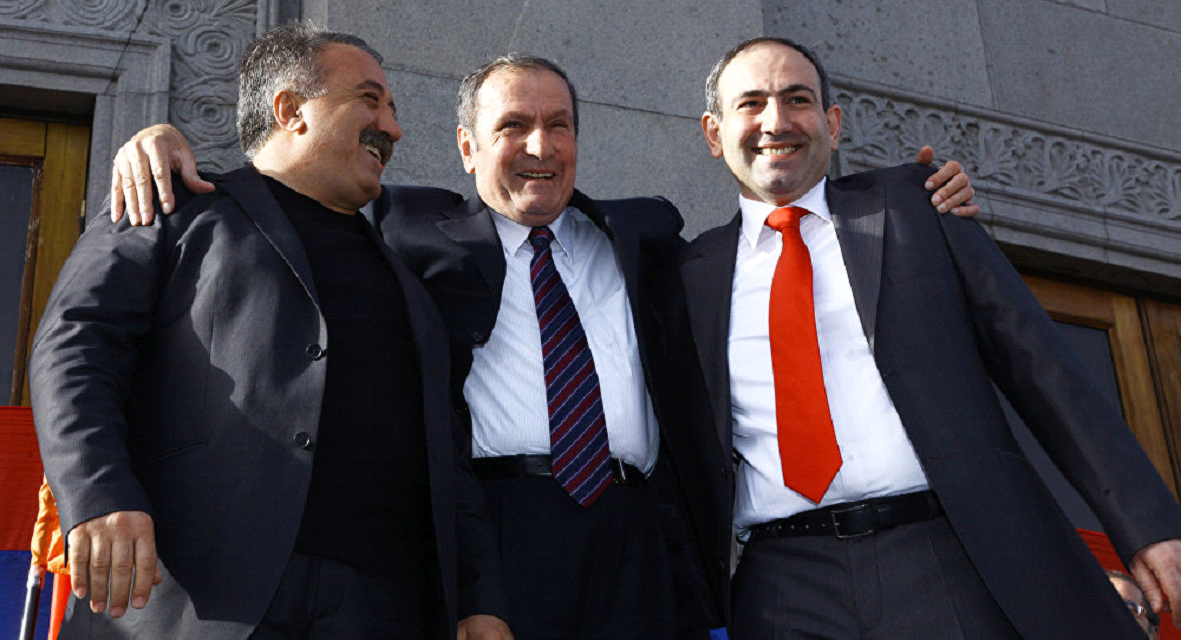 ***
In the following years, Kocharyan kept his promise of not interfering in political processes while Pashinyan, released thanks to a government amnesty after serving only two years in jail after turning himself in and then claiming he was a political prisoner, continues to pursue his political ambitions.
Pashinyan's efforts coincided with Ter-Petrosyan's former supporters continuing their efforts, begun during Kocharyan's years, of discrediting the government and creating an atmosphere of vitriol, often peppered with colorful and vile language.
During this time, several myths were created to support the crusade against the government, including that Armenia's people were living under a "regime of oppression" and a number of conspiracy theories about the assassination of Vazgen Sargsyan on October 27, 1999 and the deaths on March 1, 2008, which always seemed to conclude that the responsible parties were Robert Kocharyan and members of his Government. Over the decades they were repeated by Ter-Petrosyan, Pashinyan, and their supporters, the unsubstantiated myths became accepted as fact and Kocharyan, among other previously-respected leaders, became demonized.
By the time Pashinyan initiated yet another campaign for power in April 2018, he was able to call upon the decades-long propaganda campaign waged by himself, Ter-Petrosyan, and their allies. And now, after taking power, Pashinyan has felt the need to continue pandering to his supporters, presenting himself as the hero who has come to save Armenia. Approaching his 100-day mark, Pashinyan's administration arrested and jailed Kocharyan on legally questionable grounds.
And so Armenia is captivated by its new hero, a prime minister who evaded the war, called for Artsakh's lands to be given to Azerbaijan, and ran away on the evening of March 1 after calling for the people who died to arm themselves. Meanwhile, the man who was sheltering his family in a basement during the Azerbaijani shelling of Stepanakert, who was fighting to liberate Armenian lands, and who brought Armenia back from the brink of collapse is the villain sitting in jail.
Arresting a former leader of the country based on years of dubious propaganda sets a precedent that can have serious negative implications for Armenia from which no one is immune. And, as Pashinyan and his supporters have shown, memories in Armenia can be short and selective.